Welcome! The Galway Preservation Society encourages the awareness & preservation of the history of the Town of Galway, NY.
February 6, 2017 meeting:
Topic:  Libraries of Galway – Open Doors to Knowledge
Speaker: Arlene Rhodes
The Galway Preservation Society held its annual picnic on June 6th.
  Over the past year our group held ten meetings which featured several interesting programs for members and guests.  We enjoyed programs on the Civil War, the Iroquois Confederacy, the Mohawk Frontier, the New York State Military Museum, the waters of Saratoga Springs, and lost landmarks of Saratoga County.  One meeting invited members to share Christmas memories and traditions; another provided a forum to reflect on the long history of the Galway Market.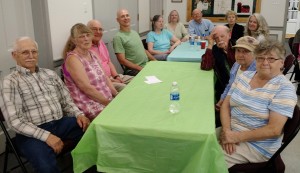 Photo: Jeopardy winning team, the "Chuctanundans"
Our final meeting of the year featured a special activity after the picnic.  Members divided into two teams and played a game of GPS Jeopardy using historical trivia drawn from our book Galway 1900-1949, A Photographic History of Life in the Town of Galway.  After two rounds of Jeopardy and a Final Jeopardy question, the "Chuctanundans" led by Dusty Rhodes edged out (by a slim margin) the "Joseph Henry's" led by Bonnie Donnan.  A picture of the winning team will appear in the next issue of our newsletter and is reproduced here.  Thanks to Richard English for serving as game moderator and Arlene Rhodes, Phyllis Keeler, and Tom Cwiakala for serving as game judges and scorekeepers.
Meetings are held at the Galway Town Hall, beginning at 7 p.m. with a social time and refreshments. A business meeting follows at 7:30, and the program starts at approximately 7:45. The public is invited to attend.
Don't forget that our book, Galway 1900 – 1949, A Photographic History of Life in the Town of Galway, Saratoga County, New York,  is still available for purchase.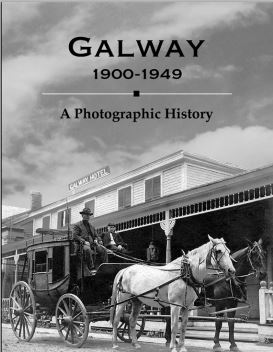 See the tab above for more information about the book. 
Opportunities to purchase:
Galway branch of the Ballston Spa National Bank
Galway Town Hall
Waterwheel Village, Route 29
Providence Town Hall
And of course, we'll have books at future Galway Preservation Society meetings. Checks payable to Galway Preservation Society, $40
If you are out of town, we'll mail to you!   Order Form
****************************************
Our display in the lobby at Galway Town Hall is all about the book! Stop in to see photos and information related to Galway 1900 – 1949, A Photographic History of Life in the Town of Galway, Saratoga County, New York.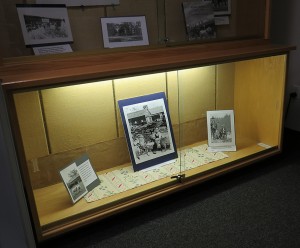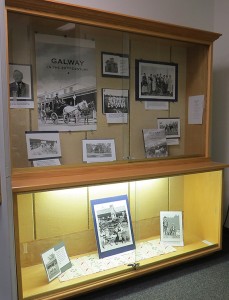 ****************************************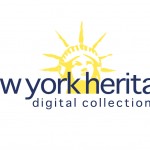 The Galway Preservation Society is a partner with the Galway Public Library in the creation of the Galway Public Library's Digital Collection in the New York Heritage website. View the collection here.
For those interested in genealogy, please note: the Galway Public Library offers patrons free access, on its four public computers, to the online database Ancestry.com, Library Edition, during the library's open hours.
Contact us: galwaypressociety@gmail.com
**** The Galway Preservation Society extends our sincere thanks to the Galway Public Library for hosting this site. ****